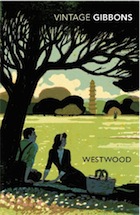 The TBR pile is multiplying rapidly, but what to choose? Rummaging around on my Kindle I came across
Westwood
by Stella Gibbons, better known as author of
Cold Comfort Farm.
I'd downloaded it several months ago after reading
The Guardian's review
. Set in London after the blitz, it's the story of plain bookish Margaret Steggles who makes the acquaintance of the terribly pretentious playwright Gerard Challis.
My lunch break was too short today to get beyond the introduction by Lynne Truss. This is what she had to say about the book:
'This is a rich, mature novel, romantic and wistful, full of rounded characters and terrific dialogue, with a pair of pleasingly intertwining plots, and great comic scenes. It is beautifully written by an author whose precision with idiom was unerring. It deals with heartbreak and hope, longing and disappointment; and is underlined by a genuine love for natural beauty.'
I think I'm going to enjoy this one.