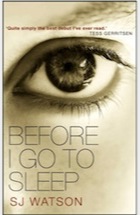 Imagine waking up every morning with your memory wiped clean. You wonder who you are, where you are and who is the man lying in bed next to you. This amnesia is the problem faced by Chrissie, a middle aged married woman. Every day she must learn afresh, only to lose it all again once she goes to sleep. Then a doctor persuades her to keep a journal and slowly she begins to rebuild her life. But is everything really as it seems? Why does her husband keep so much from her?
This is the first novel by SJ Watson, an NHS audiologist, written between shifts at London St Thomas hospital. It was inspired in part by the true story of Henry Molaison, the subject of the play 2401 Objects reviewed in an
earlier post
.
Before I Go To Sleep
is a real page-turner, hooking the reader from the very first page. Not only a well-paced thriller, it also examines the construction of memories. Just how much is actual memory and how much is confabulation?
I did enjoy this book, but I'm surprised at the effect a year of Nineteenth Century Novel study has had on me. I missed the slow build and the opportunity to reflect as I turned the pages.
After defending genre fiction in The Reading Room's engaging
debate
, I'm beginning to wonder if I am a literary snob after all.