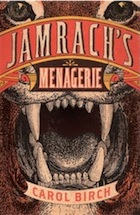 I'm sitting comfortably with a glass of Pinotage awaiting the Booker Prize announcement. I must admit to a vested interest here. Carol Birch, author of
Jamrach's Menagerie,
lives in Lancaster. I've just finished her book this evening. In the course of reading it, I've gone from admiration to horror and travelled from East London to the middle of the Pacific. I've marvelled at her fantastic imagination. Just how do you write like that and then turn off your computer and cook dinner?
I'm looking forward to seeing Carol Birch at
Lancaster Litfest
tomorrow evening. Just as football fans revere their favourite striker, or others love to celebrity spot, I find myself in awe of writers. I've seen Wendy Cope and Carol Ann Duffy at previous Litfests and, although I've enjoyed both evenings, I felt a little disappointed at the ordinariness of them. Surely they should have some special aura of creative genius? The truth is, of course, that they are really just like us. They have days too, I imagine, when there's too much to be done to have time to write. They have days too, perhaps, when they read what they've just written and despair.
Perhaps there's hope for us yet.