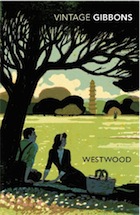 Poor Margaret Steggles, 'unlovely and heavy in manner, and craving for beauty both earthly and divine that could never be hers', takes a job as a school teacher in London just after the Blitz. She finds a ration book on Hampstead Heath belonging to the daughter of famous playwright Gerard Challis.
I say 'poor Margaret' because she becomes infatuated with Challis and is ruthlessly exploited by his family as an unpaid nursemaid, a position she gladly accepts to gain entry to the family home at Westwood. Challis is oblivious to Margaret's romantic notions as, in another strand of the story, he is besotted with Margaret's down-to-earth friend Hilda.
Challis and his family are terribly shallow and pretentious and Gibbons mocks them mercilessly. I've seldom enjoyed reading so much about such unpleasant people.
Westwood
is a very English novel, I think, and very much of its time. It's extremely class conscious, with Challis and his family looking down on Margaret, just as she, after mixing with the Westwood crowd, begins to looks down on Hilda's family.
Gibbons evokes the period well, with its rationing, air raids and American GIs. Her writing is witty, but also lyrical.
A few minutes later she stood breathing the faint breeze and gazing out across London, that beloved city, that wounded, unmartial group of villages, lying spread for mile upon mile, east and west and north and south, as far as the eye could reach, under the darkening summer sky. For the clouds had drifted away, and now every tower and dome and factory, every palace and church and stadium, stood out ghostly clear in the soft afterglow. Sometimes the myriad grey and cream tints were broken into by a dark-green mass of summer trees and occasionally, like bones, white or yellow ruins reared up.
Gibbons is, of course, best known for
Cold Comfort Farm
, but she wrote more than thirty books, fourteen of which are being reprinted by Virago.